Stress-free moving
in 3 steps
Fill out request
Answer the questions about your move or cleaning in Switzerland.
Compare offers
Compare the non binding offers with the assistance of our transparent overview.
Book with MOVU
Decide on an offer and simply book it with MOVU.
Moving quotes
Swiss moving quotes
MOVU is present throughout Switzerland. Whether you are in French-speaking Switzerland, Ticino or German-speaking Switzerland, make a free request to receive moving quotes or end of lease cleaning quotes.
Online moving quotes
Thanks to our MOVU platform, it is easy to request online moving quotes. In a few clicks you can request and receive 5 free online moving quotes within 24 hours.
MOVU moving quotes and their advantages
Rather than asking several removal companies to provide moving quotes, our platform allows you to compare 5 moving quotes online in a transparent way.
Our removal companies are professionals in the removal industry and are all insured in case of damage.
What options are offered in the moving quotes?
Your moving quotes will always include the transport and protection of the furniture listed in your removal request. The movers, the trucks and the protection of the furniture are also included. To this you can add the following options if you wish:
● disassembly and reassembly of furniture
● packing of moving boxes
● furniture lift
● rental or purchase of moving boxes
● waste disposal
● dismantling of lamps
● Protection of floors
● All-risk insurance
Estimation of moving quotes
This is a difficult question to answer accurately. It depends on a number of factors, which you can find in our article on the costs of a move.
Depending on the number of rooms in your home, however, you can find the average range of moving quotes offered on MOVU:
| | |
| --- | --- |
| Number of rooms | Average moving costs |
| 1.5 room apartment | CHF 720 |
| 2.5 room apartment | CHF 748 |
| 3.5 room apartment | CHF 1'166 |
| 4.5 room apartment | CHF 1'439 |
| 5.5 room apartment | CHF 1'807 |
| 6.5 room apartment | CHF 2'104 |
When should I request moving quotes?
As soon as you are sure you are moving, you can request moving quotes. The request is free, so you can get an idea of the price of a move and then refine the quote if your needs change.
In general, our customers request a removal quote on average 2 months before their move.
International moving quotes
You can also request a quote for an international move. Our companies are able to transport your goods throughout Europe. If you are looking for advice and administrative procedures concerning international removals, find all our articles online in our moving guide.
Moving quotes - How to decide?
You have received your moving quotes, now what?
You have 5 working days to compare your moving quotes online. Then, for "classic" requests, you can book your removal service online. Do you have any questions? Contact one of our Move Captains with any questions you may have about your removal service.
Request a visit for one of the moving quotes received
A home visit is not a requirement. However, if you have any doubts about the inventory filled in online, or if you are unsure whether a furniture lift can be installed for example, you can always ask one of the removal companies to come to your home to refine the moving quote if necessary.
How do I choose a moving quote?
There are several criteria to take into account when choosing the right removal quote for you:
● Firstly and obviously the price of the quote. Does the proposed moving quote fit within the budget you had set?
● The experience of the company. Is it a young company or one that has already carried out hundreds of removals? For this, look at the comments of previous customers.
● Location. Is it a local company or not? The distance between the company's site and your home can influence the moving quote.
How do I validate a MOVU moving quote?
On our MOVU platform, you can quickly and securely validate your removal quote. Our site offers several payment methods. You can book your service by credit card, Twint or invoice.
Moving quotes with MOVU
MOVU not only offers you an attractive moving quote, but five. You can compare different removal companies, read the reviews and choose the best proposal. The fixed prices ensure that you do not pay more than agreed. Don't hesitate to send us a request to receive quotes for your move!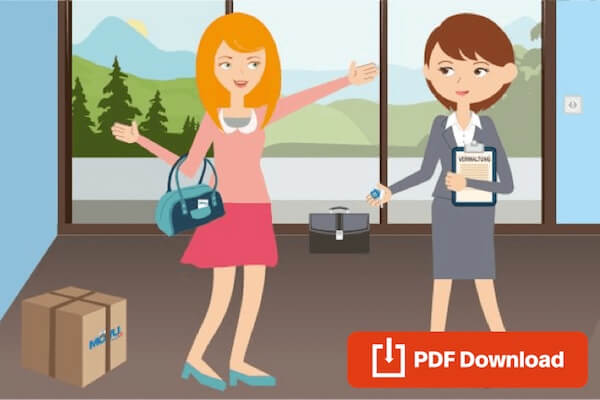 Goodbye: What You Need to Consider for the Apartment Handover
Goodbye: What You Need to Consider for the Apartment Handover
You have a new apartment? The first moving boxes are ready to be packed and the clearing out can start. Sure, you want to move out and get ready to set up in the new apartment. But you shouldn't just flee the old apartment. Inst...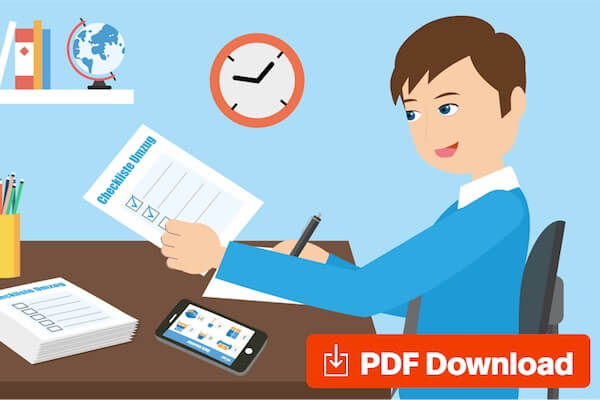 Tips and Checklist for Your Relocation - Including free PDF checklist
Tips and Checklist for Your Relocation - Including free PDF checklist
Moving is exhausting and nerve-wracking? Don't worry, MOVU is by your side. After extensive research, we collected all the important points for your project. It doesn't matter if it's a private move or a firm's relocation:...