You have a new apartment? The first moving boxes are ready to be packed and the clearing out can start. Sure, you want to move out and get ready to set up in the new apartment. But you shouldn't just flee the old apartment. Instead plan the handover properly with our checklist. You can download the detailed PDF below.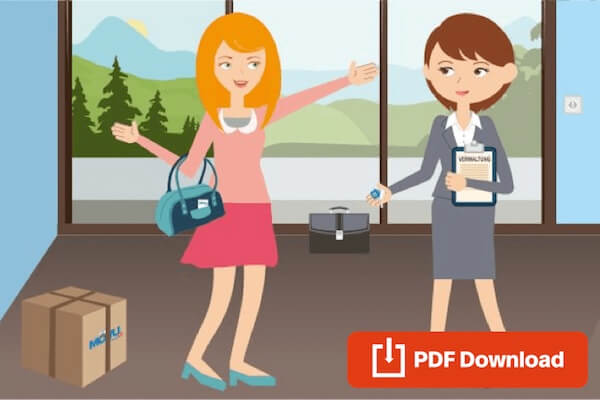 Preparing for the Handover – Not at the Last Second
Prepare yourself for the handover a few weeks before you move out. Do you still have the handover protocol from when you moved in? And a copy of the list with the defects? Perfect. Now go through every one of your rooms and try to answer the following questions:
What was damaged during your stay in the apartment?
Did you change something in the apartment that needs to be changed back?
Which things will the next tenant take over?
Do you need to do repairs?
Prepare a to-do list for every room and also note down the things, where you're not 100 percent sure, if they are your responsibility.
Change Things back: Yes or No?
Stickers on the fridge, colorful wallpaper in the bedroom and adhesive hooks in the bathroom – at first you don't even know what you need to take off and what you don't? Basically, you need to take off everything that you installed or that you took over from the tenant before you. Adhesive hooks, closet papers, wallpaper and carpets are all part of that. If you're lucky, the next tenant will take over your installations. But he or she needs to communicate that explicitly.
And don't forget: nails, screws and dowels have to be removed from the walls. Fill in the dowel holes with putty or let a specialist take care of that.
What about Reparations?
Sure, an apartment is meant to be used and sometimes things break, that's completely normal. Still, check which damages need to be repaired by you and which ones the landlord will take care of.
Carpets and wallpapers turning yellow, traces of usage on the furniture, the walls or in the bathroom – these are all part of normal wear, as long as they're not excessive. If there are bigger damages caused by smoking, animals or gross negligence, things are a big different. Here you need to pay for the reparations and professional craftsmen need to take care of it. Talk to your landlord and your insurance about the next steps.
As a general rule: All reparations that can be done by an amateur and aren't very expensive must be taken care of or replaced by you. Broken toilet seats, shower tubes or burned baking trays are part of that. Make sure you take care of these things before the apartment handover. If the landlord lets a craftsman take care of these small things, it can get expensive, fast.
Everything Should Shine: What You Need to Clean Before the Handover
The day of the apartment handover, everything should be in great condition. Everything, including all appliances and devices need to be cleaned properly. You can clean everything yourself, if you're up for it, or you can hand it over to a cleaning company. The following things need to be considered:
Get rid of stains: Adhesive, chewing gum or wax stains – everything has to be cleaned. Read in the detailed checklist below how to get rid of stains.
Decalcify: Chalk can be bothersome, because it's not easy to get rid of it. Every water faucet, wall panel, plug, drain, sprinkler, shower tube and so on needs to be rid of calcifications.
Degrease: It's easy to forget the steam extraction hood. But here too, grease needs to be cleaned out. Filter pads need to be replaced and the filter housing needs to be cleaned.
Tip: Keep some cleaning utensils handy during the apartment handover in case you overlooked something.
The Condition of Technical Devices
Technical devices don't just need to be clean, they also have to work properly. Check the lights inside the fridge and the oven and replace the light bulbs if necessary. Make sure that every door has its proper key. If not, try to find it. What about the shutters? Do you need to replace a strap? If one of the windows has a crack, you also need to take care of a replacement.
Now it Starts: The Process of the Handover
Normally, the handover takes place on the last day of your rental agreement. But check in your contract. Often, the next day until noon is also okay. Call the landlord and agree on an appointment. Did you hire a cleaning company for the cleaning? Yes? Then make sure that someone from the company is present during the handover. Now you and the landlord will fill in the handover protocol, where you note down the detailed condition of the apartment. Make sure, that every position that is in good conditions, gets a check. That way you have it in writing that everything is okay.
If there are damages, they will be noted down in the protocol. Only sign the protocol, if you agree with it. If you and the landlord don't agree on something, write that down on the protocol. Keep a signed copy of the protocol for your documents.
Thought of Everything?
It's done. You handed the apartment and the keys over. Don't forget to deregister from electricity, gas and phone, to change your address and to claim your rental deposit.
Do you want to tick off every point off the checklist, so that you don't forget anything? You can download the checklist as a PDF-File here.