Stress-free moving
in 3 steps
Fill out request
Answer the questions about your move or cleaning in Winterthur.
Compare offers
Compare the non binding offers with the assistance of our transparent overview.
Book with MOVU
Decide on an offer and simply book it with MOVU.
Locations
Our location in Winterthur
MOVU AG
c/o Baloise Versicherung AG
Bahnhofplatz 12
8400 Winterthur
Tel: 052 539 15 51
The move to Winterthur is coming up? Here you will receive 5 non-binding offers from local and quality-tested relocation companies. Compare the moving companies online and book your favorites directly with MOVU.
Customer reviews
"Very friendly and careful company. All the furniture was well packed and the movers took care that they didn't hit anything. The assembly was quick and professional. I would engage this company again. Thank you very much! I wanted to put a sofa from the upper floor to the lower floor, they did it for me. Thank you very much."

Valeria, Winterthur

"Everything at its best, fast and without incidents! Gladly again."

Daniel, Winterthur

"The Three Gentlemen were very friendly and quick. Everything was handled carefully and no damage was done. They even repaired a piece of furniture that was not damaged by them. I can recommend the three from the bottom of my heart."

Tina, Winterthur

"The men of the removal company were even on site a few minutes before the agreed date. They worked very quickly, handled our things carefully and were very friendly. We would recommend the company at any time."

Claudia, Winterthur

"Fast and efficient. Had to pay a little extra because of additional work, otherwise everything tip-top."

Eszter, Winterthur

"Very speedy, clean, friendly and courteous! A completely successful move!"

Christine, Winterthur

"We were very satisfied! Top performance and efficient work. Nice and friendly moving team."

Matthias , Winterthur

"Book these guys if you are moving! We have moved transcontinentally a few times and know what its like to be totally stressed out by a move. This team, Edris and crew, calmed our nerves on a stressful day. We just renovated our house from top to bottom and have freshly plastered and painted walls as well as a new wood floor. They worked hard and went the extra mile to stay organized and stay careful."

James, Winterthur
Visit eKomi for more ratings


Moving to Winterthur, the Nature Paradise
THE CITY OF MANY FACES
The city of Winterthur has the sixth biggest population in Switzerland. Around 105'000 people currently live here and there are reasons for that. Some of Switzerland's traditional and big companies like AXA Winterthur have been here for a long time, creating jobs and attracting people. Every day around 25'000 people come to Winterthur for work and an estimated 7'000 students come here from all over Switzerland to visit the University of applied sciences. Whenever there are so many people living, working and studying there is also a high moving rate. That's why a lot of our moving companies actually come from Winterthur. They know every part of the city and with so many moves they've helped us become a very competent and professional partner in all situations. So, don't hesitate and profit from our local competence when moving to or in Winterthur. Our Move Captains will accompany you throughout the whole move and you can benefit from our easy online service.
NATURE, CULTURE AND EDUCATION CENTRE
When we ask our local moving companies what they'd say makes Winterthur such a special place, they all say the same thing: nature! The city is situated between forest-covered hills in all directions. The "Zürcher Weinland" is situated north of Zurich and is perfect for long walks or the unique lama trekking tours. A little closer to the city you'll find the "Affenschlucht" of the river Töss where kids can throw rocks or admire the speed and force of the river flowing past. With all these possibilities to experience the beauty of nature, it's absolutely worth hiring a professional moving company to have more time for these things. If nature is not your thing, don't worry.
Winterthur is also famous for its cultural diversity with a lot of museums. And on top, there are a lot of young people because of the University of applied sciences which makes it a vibrant place. It's a city full of quality and that's also the case with our partner moving companies. We check all of them for their quality level so you won't have to worry about finding a good company that takes good care of your furniture. Move with MOVU and be on the safe side.
PROXIMITY
Winterthur seems to be situated ideally for several reasons more than just it's surrounding nature. The airport is only a 15 minutes' ride by car or trains away. Zurich's center can be reached within 25 minutes. Traveling from Winterthur is therefore very convenient and fast, which are also two of our core values at MOVU. If you're moving to this wonderful city with its balance of nature and proximity to metropolitan areas, we'd love to help you find the best moving companies for your move.
Moving to Winterthur – City of Tolerance and Diversity
The city of Winterthur is well known for its diversity and tolerance – ideally suited for a move there. However, you will need a suitable removal company, which MOVU can arrange for you.
A PLACE TO CONNECT
Because of the big companies and the University, Winterthur is a place that is very diverse in its people and offers. Every fourth person that lives in Winterthur is originally from abroad and had to drive a long way for their move. Germans are the biggest group, making up 18% of people moving to Winterthur, closely followed by Italians with 17%. They also brought their culinary specialties with them. Two of those places are the ristorante Sottovoce and the Pizzeria La Pergola where you can enjoy delicious Italian cuisine.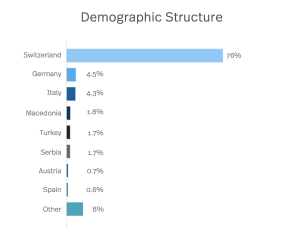 With cultural diversity, Winterthur also has an interesting religious diversity. 60% of the population are Roman Catholics or evangelic while 13% are Muslims and another 20% say they don't belong to any confession. The epitome of religion in Winterthur is definitely the evangelic city church, which is surrounded by an idyllic square. The church was built in 1244 and was later expanded three times.
The diversity also shows in the cities politics. The city council is made up from 8 different parties from the left to the right-wing. It's a very balanced council with 15 seats for the SP and 14 seats for the SVP, the two strongest parties. In third place the GLP and Grüne follow with 8 seats each, followed by the AL with 7 seats.
Social justice and living together are at the heart of Winterthur's politics and it's nearly impossible not to love the city for it. We from MOVU love to accompany moves in Winterthur since we are a big fan of the city's values. So, if you're looking for the right moving company, look no further. MOVU has an easy and cost-effective solution for you.
Tips for relocations in Winterthur
Tips and Checklist for Your Move – Including free PDF checklist
Tips and Checklist for Your Move – Including free PDF checklist
Moving is exhausting and nerve-wracking? Don't worry, MOVU is by your side. After extensive research, we collected all the important points for your project. It doesn't matter if it's a private move or a firm's relocation...
Goodbye: What You Need to Consider for the Apartment Handover
Goodbye: What You Need to Consider for the Apartment Handover
You have a new apartment? The first moving boxes are ready to be packed and the clearing out can start. Sure, you want to move out and get ready to set up in the new apartment. But you shouldn't just flee the old apartment...