Stress-free moving
in 3 steps
Fill out request
Answer the questions about your move or cleaning in Biel.
Compare offers
Compare the non binding offers with the assistance of our transparent overview.
Book with MOVU
Decide on an offer and simply book it with MOVU.
Locations
Our location in Biel
MOVU AG
c/o Baloise Versicherung AG
Mühlebrücke 13
2502 Biel
Tel: 031 539 15 51
The move to Biel is coming up? Here you will receive 5 free offers from local and quality-tested relocation companies. Compare the moving companies online and book your favorites directly with MOVU.
Customer reviews
"The boys did a great job, were very friendly and put a lot of effort into it. The cleaning was also top as well as the acceptance, ran smoothly. A big thank you, for the commitment of the moving staff."

Giuseppe, Pieterlen

"Great moving team! Thank you very much."

Silvia, Biel

"Super service as well as service from the removal company."

Tobias, Biel

"Very punctual, even a little early, friendly and fast (even in a rush to finish) which can lead to a lack of vigilance and leave its mark. Nothing to say about the cleaning, it worked!"

Yann, Biel

"Punctual and friendly!"

Konstantin, Biel

"Very good team that has done very good work. Courtesy, friendliness and professionalism. Thank you very much."

Yllonka, Biel

"Everything's fine! Punctual arrival, friendly contact and great care. We are happy to recommend this company to friends, family and to you. We were particularly happy about how quickly our IKEA furniture was set up."

Lukas, Biel

"A big thank you also from my side. That is quality! Merci"

Urs, Biel
Visit eKomi for more ratings


Welcome and Bienvenue in Biel
Time – Made in Biel, available at MOVU
Ticktack, the countdown to your move is running. Soon you will be living in the Swiss watch metropolis of Biel, the city where time is of the essence. Time, a precious commodity that you too can certainly use. Because we know: An impending move always takes more time than you think. That's why you've come to the right place at MOVU.
After a request, you will receive 5 offers within 24 hours from selected moving companies in Biel, which you can book directly, conveniently and easily online. You won't lose any time searching for removal companies or coordinating home visits. You will receive a product that has been cut to fit you, as irresistible as a watch from Biel.
Precise "Büezer" (hard workers) masters your Move to Biel
The best watches in the world are produced in the Biel precision center. The world-famous Swatch watch created in Biel functions perfectly and is very inexpensive compared to the competition. If you are planning to move to Biel or within the city, then MOVU is the place for you. Our aim is to make the move as simple and inexpensive as possible without compromising quality.
Our partner move companies carry out their relocations precisely, flawlessly and at reasonable, transparent prices. Similar to the ice hockey players of the EHC Biel, all relocation companies that are allowed to offer at MOVU go through a recruitment process: they are scouted by MOVU, tested and finally continuously evaluated by the public. Strict compliance with these values has enabled MOVU and its move companies to establish themselves at the top of the Swiss move market.
Hard-Working crossed with Welsh sympathy
Biel is the largest bilingual city in Switzerland. Swiss-German from Berne meets French. German-Swiss diligence meets French joie de vivre. In Biel you can experience the cultural diversity of Switzerland up close and benefit from the characteristics of both cultural regions. MOVU's move companies also know and carry the values of both cultures. Whatever your origin or language, MOVU has the right moving company to take you and your goods to Biel safely, efficiently and with great pleasure.
Biel – The city of two languages and low priced apartments
With your move to Biel you, therefore, have the best chance of becoming fluent in both languages! Biel is the only city in Switzerland that has a legal obligation to be bilingual when dealing with the authorities. This means that all street signs, bus announcements and official documents are bilingual. Even administrative procedures are possible in French as well as in German.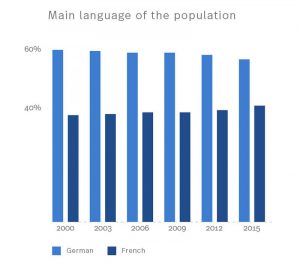 There are even quarters where German-speaking and French-speaking pupils are taught in the same school building. It also happens more and more often that one person speaks German and the other answers in French. There is no better place to experience multilingual Switzerland.
If you move to Biel, you will probably move into one of the 480 vacant apartments. With a vacancy rate of 2.7%, Biel is well above the average. In cities with lower vacancy rates, rents are rising sharply in some cases. In Biel you get off comparatively cheaply: 
3-room apartments are available from 900 francs, 4-room apartments from 1,070 francs. But moving to Biel doesn't just save you rent. With MOVU, you can move house cheaply yet safely. Start an inquiry now to receive your 5 offers and compare prices tomorrow.
Tips for relocations in Biel
Tips and Checklist for Your Move – Including free PDF checklist
Tips and Checklist for Your Move – Including free PDF checklist
Moving is exhausting and nerve-wracking? Don't worry, MOVU is by your side. After extensive research, we collected all the important points for your project. It doesn't matter if it's a private move or a firm's relocation...
Goodbye: What You Need to Consider for the Apartment Handover
Goodbye: What You Need to Consider for the Apartment Handover
You have a new apartment? The first moving boxes are ready to be packed and the clearing out can start. Sure, you want to move out and get ready to set up in the new apartment. But you shouldn't just flee the old apartment...