Stress-free moving
in 3 steps
Fill out request
Answer the questions about your move or cleaning in Bern.
Compare offers
Compare the non binding offers with the assistance of our transparent overview.
Book with MOVU
Decide on an offer and simply book it with MOVU.
Final Cleaning in Bern – Master it with MOVU
GOETHE'S COMPLIMENT
Bern is one of the most beautiful cities in Switzerland. In 1779, Goethe even described it as the most wonderful city he'd ever seen. Until today, Bern almost didn't change its medieval cityscape and in the 80s, the city was entered into the register of the UNESCO World Heritage. Switzerland counts as one of the safest countries in the world, but there are some differences between cities and canton. With a burglary ratio of only 2.4 for 1'000 inhabitants, Bern can be seen as very safe. In other Swiss cities, the numbers are much higher. To us from MOVU, safety is vitally important. That's why we're only working with certified cleaning companies, who always offer the handover guarantee. So, start an inquiry at MOVU and get 5 offers within one workday for your final cleaning. The best thing is that since you fill out our tried and tested questionnaire, the cleaning agency can precisely estimate the working time and guarantees a fixed price. So, you only get offers with fixed prices and don't need to worry that you'll suddenly have to pay more than planned.
ONIONS AND CAKES
If you ask people to describe Bern, the word "comfortable" will surely come up. People from Bern have leisure and pleasure in their blood. You won't be confronted with a hectic pace and rush on the streets of Bern. We from MOVU however don't only want your stay in the city to be pleasant, our goal is to make your relocation and the apartment cleaning as smooth and easy as possible. That's why you only need to fill in one inquiry to get 5 offers for free. Save time and money when booking with MOVU and enjoy the rest of your time in Bern with a piece of the famous "Zibelechueche", the traditional cake made of onions, sour cream, eggs and bacon. Leave the hard work to us and start an inquiry now to get offers.
What's the Effort for a Final Cleaning?
According to a small survey, most people estimate that they need 7 to 8 hours to clean their apartment, so that it's ready for the handover. We from MOVU have already accompanied thousands of final cleanings, that's why we know that it usually takes 20 working hours because many things have to be scrubbed that were never cleaned before. Start an inquiry now so that the apartment handover can be done stress free. You'll get offers from cleaning agencies that will all guarantee a smooth handover. This means that the cleaning agency will be with you during the flat handover. If the administration is not satisfied, the team will get back to work without costing you a penny.
And another great thing: You don't need to be present during the flat cleaning. Instead, you could visit the Grand Casino Bern for example. The casino has a pay-out ratio of 94%, which is the highest pay-out in Switzerland. Or do you prefer nature? In this case, you should visit the rose garden or the bear park. Or perhaps you're more interested in history, music, or physics? Albert Einstein lived in Bern for two years and developed the theory of relativity in this city. The house in which he lived in is worth a visit. Mani Matter, the famous Swiss musician, also lived here and studied at the University of Bern. If you're moving away from here, take your time to say goodbye to the city while the cleaning agency is dealing with your apartment. If you're moving within the city, then you can grab a coffee and enjoy the city or start arranging your new flat while the cleaning company is still scrubbing your old one.
Goodbye, Bern
Moving isn't easy – There's a lot of things to consider. You don't want to forget any important details like the address change? Then download the apartment handover checklist and the moving checklist down below.
Onion Market – The public festival takes place once a year in November. The market is extended from the main street to the narrow lanes in the old town. It's definitely worth visiting, especially if you're planning to leave the city.
Shopping – With its 6 kilometers, the arcade in the old town is one of the longest shopping promenades in Europe. Countless stores, malls, and boutiques invite you to go shopping during the apartment cleaning.
Rendez-vouz Bundeshaus – The Rendez-vouz Bundeshaus is a fascinating light and sound spectacle. It doesn't only attract people from Bern but also the rest of Switzerland.
Bear Park – Bears are Bern's emblem. The bear park allows visitors to glance at the life of the animals. Even in winter you can observe them in hibernation with the help of web cameras.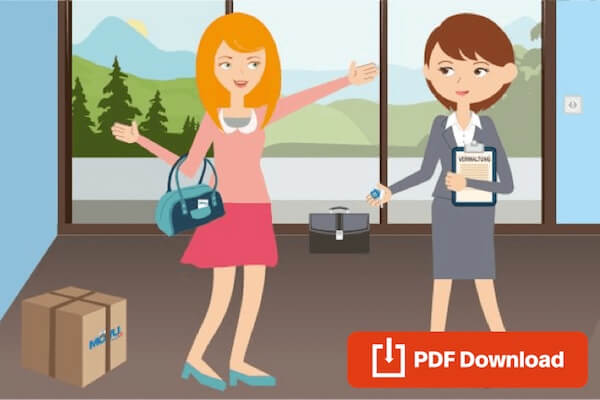 Goodbye: What You Need to Consider for the Apartment Handover
Goodbye: What You Need to Consider for the Apartment Handover
You have a new apartment? The first moving boxes are ready to be packed and the clearing out can start. Sure, you want to move out and get ready to set up in the new apartment. But you shouldn't just flee the old apartment. Inst...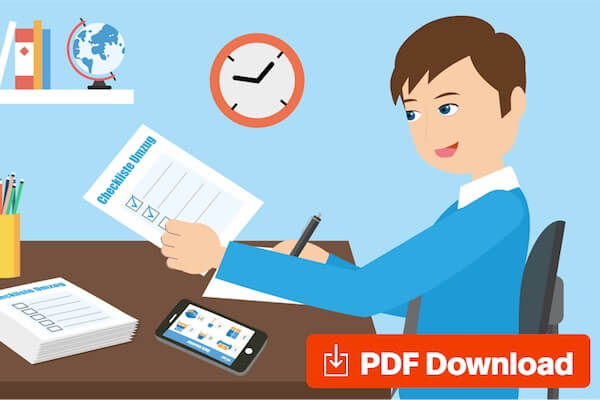 Tips and Checklist for Your Relocation - Including free PDF checklist
Tips and Checklist for Your Relocation - Including free PDF checklist
Moving is exhausting and nerve-wracking? Don't worry, MOVU is by your side. After extensive research, we collected all the important points for your project. It doesn't matter if it's a private move or a firm's relocation:...
More Information
More Information