Sometimes things happen very quickly. You finally handed over the apartment and are just about to remove your name tag from the mailbox when you realize: "My favorite magazine doesn't know anything about my move, yet!" But no need to panic: it's best practice to set up a redirection order for your mail. And, you also need to re-register. In this article we'll tell you everything you need to know about those two things.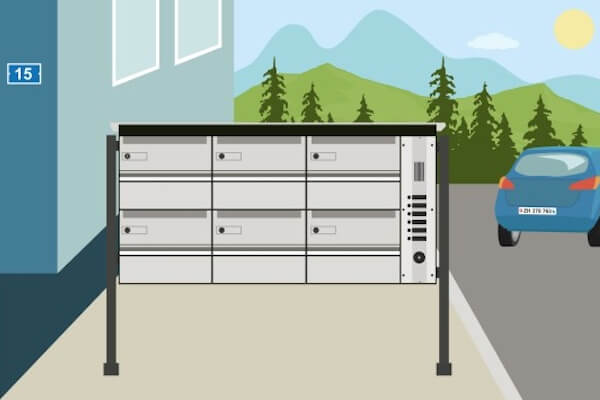 How does the redirection order work?
If you organize a redirection order, all letters and parcels will be sent to your new address after the move. That way you don't have to worry about any of your mail getting lost.
Duration and time limit
The good news is that you can set up the redirection service quite quickly. Organize the redirection order online at least four days before the desired starting date. Anything more urgent counts as an express service and will cost you more. Nevertheless, in case of an emergency, you can place the order by 11pm and your mail will be sent to your new mailbox the following day. Your redirection order is valid for twelve months. If you would like to have your letters forwarded for a longer period of time or permanently, you must inform the customer service of the Swiss postal service.
Request redirection order online or offline?
Of course, you can go to the post office counter and fill in all the documents for the redirection order. Just make sure to bring your ID. However, we recommend you to use the online service of the Swiss post office. You'll save time and it costs less. But note that you need to register in order to use the online service. The registration usually takes a few days, so make sure to register in good time. Maybe right now?
How much does the redirection order cost?
As mentioned, online is cheaper than offline. Online it costs CHF 30 for 12 months, for one person. At the counter or by telephone you pay CHF 42. If you move with your family or with flatmates, each additional person only has to pay CHF 5. For parcels, you'll have to pay the postage fee of the price they're currently listed upon arrival.
Tip: You can even have your mail sent abroad. However, this costs about three times as much as forwarding to a domestic address. For the latest prices, check the website of the Swiss postal service.
Exceptions confirm the rule
Not every envelope is simply forwarded to you during the redirection order. The Swiss postal service makes the following exceptions: PromoPost items, free newspapers/catalogues (labeled "CAT") and items addressed to a military address or a postal storage. In addition, debt collection documents are only forwarded within the operating area. Attention: If you enter a foreign address, neither court documents, parcels nor military shipments will be forwarded.
Difference between private relocations and business relocations
If you have to change your company's location, the redirection order is similar to a private move. While private mail is usually delivered with a delay of one day, mail for companies will be delivered as usual. Which is why costs are calculated differently and depend on effort and weight. With a direction order for a business, you'll receive a monthly invoice.
Additional service: updating the address
It's easy to forget to inform one or the other person or company of the new address. To ensure that letters continue to find their way to you after the expiration of your redirection order, you can give the postal office the ok for an address update. This means that the Swiss postal service is allowed to communicate your new address to companies and institutions. They can then update your contact information in their own databases.
You might now think: "What? They're allowed to tell people my address?". But that's not the case. They're only allowed to give your new address to companies that already know your old address. Data protection is therefore guaranteed. The advantage is that you don't have to worry about informing your correspondence partners yourself. This saves a lot of time and minimizes the stress during the time of the relocation.
By the way: If you don't want the postal office to inform others about your move, the sender will just receive the mail back after the redirection order has expired.
Now the path is clear
Once you submitted the redirection order, you can leave your old apartment with peace of mind. Don't forget to remove your name tag from the old mailbox. At your new home, it is best to make sure that your name is clearly visible on both the doorbell and the mailbox. This way you can ensure that everything runs smoothly with the redirection order.
Authorities also need to know about your relocation
It's not just your magazine subscriptions that want to know what your new address is. There are a number of formalities to go through in order to take your vehicle with you to your new place of residence. You telephone connection also needs to be re-registered, otherwise, callers won't be connected to you.
Necessary paperwork to re-register your car
Unfortunately, not everything can be done without paperwork. The re-registration of your car requires some. The procedure differs depending on whether you move within the same canton or relocate to a different canton. In both cases, the address on your driver's license and registration document need to be adjusted. You'll receive a new registration document, usually free of charge.
Relocation in the same canton
If you move within a canton, you can inform the traffic office of your change of address by telephone if you have a driver's license in credit card format. If not, you have to request one. You can download the proper documents on www.strassenverkehrsamt.ch and need to send it to the traffic office with a colour passport photo. You can keep your license plate in the same canton when you move house. Just make sure to re-register your vehicle within 14 days.
Relocation to a different canton
Here, too, you must report to the traffic office at the latest 14 days after your move. Please bring the completed form "Application for registration of a vehicle" with you. You can also insert your current vehicle registration document and a new liability insurance certificate. You can get that from your insurance company on request.
You can then exchange your old license plate for a new one at the traffic office. Just take your license plate and documents with you and speak to them personally at the counter. If you don't have time to go there, you can also send the documents by post to the traffic office and exchange the number plates at the postal office in your city.
Attention: Prices and fees vary from canton to canton.
Also, re-register your telephone connection
To ensure that potential callers are not disappointed, it is best to re-register your phone in time. It's not that complicated. Inform your phone company about your new address three to four weeks before the relocation. With some telephone providers you can even do this online. Just keep the last phone bill ready. Ideally, you should have the name and telephone number of the previous tenant of the new apartment at hand. The data can be obtained from your landlord or the property management. In addition, you should be aware of when the new connection is to be activated and when the old connection must be switched off.
Formalities taken care of?
Sure, all this paperwork can get on your nerves. But as long as you stay on top of things, it should all work out. As soon as your move-in date is set, it is best to create a list in which you enter all the important details. Alternatively, you can also download the removal checklist here and check off one task after another. That way you won't forget anything and you are all set for a smooth relocation.