Are you planning to move to or within Geneva? In this article you can find out what you need to know. We will show you the different implications of moving with a professional relocation company or moving on your own. To ensure that you always have an overview of the move, we have also provided a checklist for you to download.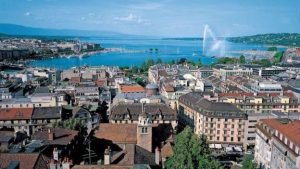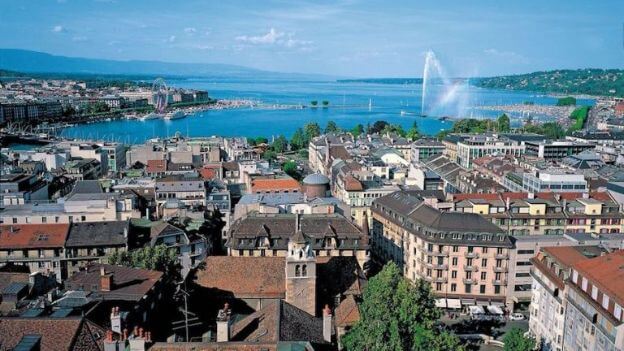 Facts about Geneva
Geneva is a city with over 200,000 inhabitants in French-speaking Switzerland and is densely populated. This makes the traffic and parking situation complicated. The metropolitan area of Geneva-Lausanne with 1.2 million inhabitants is very important for French-speaking Switzerland. Geneva is a political heavyweight due to the settlement of many international organizations.
In addition to 175 diplomatic missions, the UN, WHO, CERN, ICRC, ILO, WTO and many other important organizations have their headquarters or a branch office here. Geneva is also a very important financial center. The quality of life in Geneva is very high, but the districts of Cité, Eaux-Vives, Plainpalais and Petit-Saconnex are also very expensive.
Moving to Geneva: Move by yourself or with a professional relocation company?
If you want to move to, from or within Geneva, you can hire a relocation company in Geneva or move on your own. We explain the differences and other important aspects of your move to Geneva.
Move by yourself
If you move your own furniture and cartons, you have to take care of the transport yourself. Usually it makes sense to rent a van. There are companies that offer rental vans at an hourly or daily rate. You can read more detailed information on renting a moving van in this article.
Consider in advance how much stuff you have and how long the distance between the two apartments is. Also consider your driving license – the type of vehicle you're allowed to drive depends on it. Also make sure to organize packing materials.
Organize enough moving helpers and prepare some food for the day of the relocation – that way they don't go hungry while helping you.
Moving with a professional moving company in Geneva
A professional moving company is a bit more expensive but makes the relocation a lot easier. Professionals are familiar with upcoming issues, specific questions and the traffic situation in Geneva. This is an important advantage and will save nerves and time on the day of the move. Professional movers are also experienced in protecting your furniture with special materials. They will bring their own moving trucks and also very important: your belongings and furniture are insured.
When contacting a moving company in Geneva, they will estimate the necessary time and personnel required. If necessary, they will bring a furniture lift. Usually, moving companies are happy to visit the apartment in advance to calculate the exact costs.
How much does a move in Geneva cost?
If you move by yourself with the help of some volunteer, the biggest costs are packing materials and the rental moving van. You can get both for good prices. It's possible to handle the move with less than 500 francs – even if the household is quite large. The downside is, that your things most probably aren't insured during the transport. Look into your policy for more information on that.
A moving company is insured. Their price depends on the volume, the distance, the floor of the old and new apartment and also on other special circumstances. For example, if transport through a narrow staircase is not possible, a furniture lift is necessary and will cost a little extra.
Fixed prices or hourly prices with a cost ceiling are suggested when moving with a company. Sometimes you can save with the cost ceiling if the relocation takes less time than expected. Read the wording in the offer carefully and pay attention to details.
Organize packing materials
You will need moving boxes in any case. You can rent them from the removal company or buy them online, for example at topkartons.ch. You may also find some used cartons from family and acquaintances. Pack your things well and protect fragile items with newspapers or bubble wrap. Blankets are good protection for furniture. In the transporter you should secure your furniture and all boxes very well with transport belts.
Parking reservation in Geneva
Given the high population and traffic density in Geneva, the organisation of two parking lots in front of the old and the new apartment is very important. You can apply for this reservation including with the city. More information on the parking situation in Geneva can be found (only in French) here.
Download our checklist for the move
A relocation often takes longer and is more complicated than expected. Our checklist can help you with the organization of everything. You can download our relocation checklist as a PDF file so that you can keep track of everything during the move.