What do you need to consider when moving to Bern? And what is the difference between moving with a professional removal company from Bern and moving on your own? In this article you will find answers to these questions as well as a checklist for the relocation in Bern.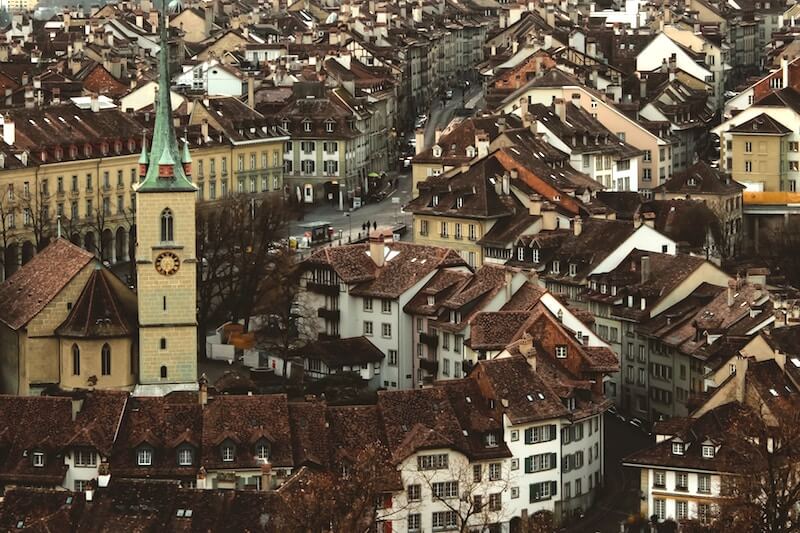 Bern facts: The capital with the bear
Bern – the capital of Switzerland – has a population of 142,000 (as of the end of 2017). This makes Bern one of Switzerland's largest cities, alongside Zurich, Basel and Geneva. In addition, Bern ranks 14th among the cities with the highest quality of life in the world.
Apart from the Aare – the turquoise-blue river – the well-preserved old town of Bern, which is on the UNESCO World Heritage List, is characteristic for the city. Bern consists of six districts, which are divided into 32 different city districts. The district Bümpliz-Oberbottigen has the most inhabitants, Inner city the least.
According to legend, the name "Bern" is named after an animal killed in the surrounding forests – the bear. This folk mythology is still reflected in the coat of arms of the city.
Moving in Bern: Moving on your own or with a professional moving company?
There is a difference between a so-called "do-it-yourself" move and a move with a professional relocation company. Before you start planning your move, you should decide on one of the two options. Are you going to do everything on your own or do you want a professional moving company from Bern to do the work?
Moving on your own
Moving on your own means careful planning: you have to consider numerous issues yourself, such as the organization of moving helpers on the day of the move and the catering of these supporters, the transport of your furniture, protective materials and so on.
Especially the organization of the transporter should be well planned. If you rent a moving van, you should consider the size of your moving-goods. You also need to have a driver's license that allows you to drive certain car sizes. Read more detailed information in our article on moving vans.
In addition, you need to organize moving helpers who have the time and desire to help you on the day of the relocation. Ask your acquaintances in time to avoid unplanned shortages. The more help you have, the better and faster your move will be. Removal helpers also want to be fed, so make sure to prepare some simple food for the day of the relocation.
Moving with a professional relocation company
With a professional moving company you don't have to worry about all those things. The moving company organizes your move more or less from beginning to end for you. This means that you do not have to worry about the transport vehicle, protective materials for safe transport and sufficient moving helpers. This can save you a lot of stress and time, especially since there are still enough questions and problems to take care of during a move. If you choose a professional relocation company, ask for quotes and compare prices. A home visit is also a good way to get to know the removal company and get a realistic impression of the moving company. Fixed prices or cost ceilings guarantee that you will not be charged any unexpected relocation costs on the day of your move. Also make sure that the company is sufficiently insured and read the small print carefully.
Organize packing material for your belongings
Packing has to be taken care of before the move. For this you need enough boxes, bags and suitcases in which you can store and transport your belongings.
Packaging materials such as moving boxes are available online at topkartons.ch. There you can order moving boxes and special boxes for glasses. Protect fragile objects with extra padding such as blankets, bubble wrap and newsprint. Protective materials are available in DIY stores. If you are planning a do-it-yourself move, get safety belts to protect your furniture in the van.
Reserve a parking space: The requirements in Bern
To reserve a parking space, to be allowed to park in a no-parking zone or to use the sidewalk as a parking space, you need a special permit from the Cantonal Police in Bern. In addition to the permit, you need to obtain signals with which you can seal off the reserved area. You can pick up the signals at the civil engineering office. Before you can get signals from the Civil Engineering Office, however, you need to apply for the necessary document from the cantonal police, which will enable you to pick up the signals. You can find all the information on parking prohibitions and the form you need to apply for a parking permit in Bern here.
Moving to Bern: The costs
How much does a move in Bern cost? This question is difficult to answer. After all, when it comes to costs, it is particularly important whether you carry out your move yourself or leave it to professionals. In this text on relocation costs, we explain the average costs you will incur when moving and the approximate prices.
Moving to Bern: Don't lose the overview
To keep track of your move in Bern, we compiled the most important points for you. You can download our relocation checklist as a PDF file for free.