If you want to move within Lucerne or are planning to move to the city at Lake Lucerne, you should read this text. We give advice for a relocation in Lucerne. You can also download a relocation checklist here, so that you don't lose track and don't have to worry about chaos during your move.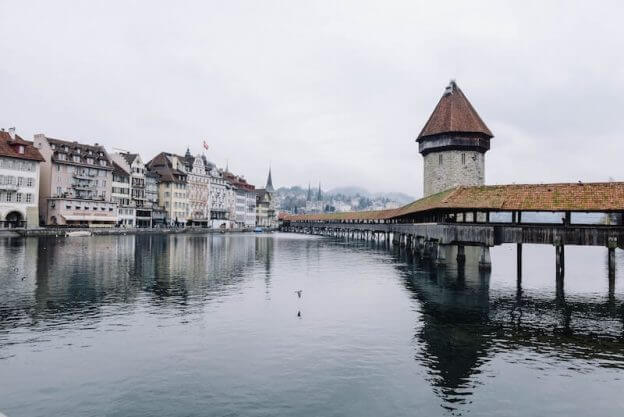 Lucerne facts: The young city at the lake
Lucerne looks like a painting. Lake Lucerne and the foothills of the Alps behind it are particularly characteristic of the city. The chapel bridge with the water tower is also considered a landmark of the city and is a world-famous postcard motif.
Lucerne is divided into two districts, the Old Town and the New Town. Lucerne has six districts, 26 quarters and 132 small districts.
In 2016, the city of Lucerne had 81,500 inhabitants, with the New Town having the highest population and the Littauerberg the lowest.
Lucerne is a young city. Most of the inhabitants are between 20 and 39 years old. This is partly due to the high density of education the city offers, as Lucerne is home to the University of Lucerne, the Lucerne University of Applied Sciences and Arts and the Lucerne School of Education.
Moving to Lucerne: Do it yourself or hire professionals?
When moving, there are two possibilities: a so-called do-it-yourself relocation or a move with a professional removal company.
Move by yourself
Taking the move into your own hands means above all: organization, logistics and a lot of physical work. A move on your own is cheaper, but a large part of all tasks falls back on you. Two questions in particular are decisive here: the transport and the moving helpers. The former means that you need to rent a removal van in the right size. You also need to make sure you have a driver's license that allows you to drive a van. Information about renting delivery vans can be found in our text on moving vans.
Then there's that thing with the moving helpers: Ask friends and acquaintances in advance whether they can and want to help on your moving day. After all, you are dependent on helpers, it is quicker with them and less work falls back on you.
Moving to Lucerne with a professional removal company
If you realize that the whole organization and work of your upcoming move is not for you, you can also hire a professional removal company for your relocation. The company more or less takes the moving work off your hands from start to finish. Get offers from removal companies in and around Lucerne. Make a price-performance comparison and estimate which removal company suits you best. A home visit is often a good way to get to know the removal company before the move. Make sure that a fixed price is guaranteed in the offer, so that no unpleasant surprises come to you on the day of the move. Some companies also offer additional services such as insurance. Inform yourself well in advance, because if there are problems or damages, you should be adequately insured.
Organize packaging material: Well packed is half the work
Before the move begins, you must pack your things in boxes, bags and suitcases. Take enough time to pack, because the better you pack, the less stress you will experience when unpacking in your new home. Sensitive objects are best packed in protective materials such as newspaper or bubble wrap. You can get protective materials e.g. in DIY stores, stable and high-quality moving boxes on topkartons.ch. You will can find tips on packing for the move here.
Reserve a parking space for the move in Lucerne: Here's how
Unfortunately, it is not possible to park the removal transporter anywhere on the day of the move; you might have to buy a parking card beforehand.
Parking within a parking ban costs CHF 20.
A 24-hour parking card for the Blue Zone also costs CHF 20.
Zone Z costs 10 CHF. Parking zone Z is all zones in the suburbs of Lucerne.
A 12-hour parking ticket for Lucerne's public car parks costs CHF 35 (except for short-term parking under 30 minutes).
An overnight parking card costs CHF 25 from 18:00 to 11:00 the following day.
You can collect and pay for the individual parking tickets at Winkelriedstrasse 12a, 6002 Lucerne at the Service Department Urban Space and Events. Further information can be found here.
How much does a move in Lucerne cost?
This question is difficult to answer, because the costs of the relocation depend on the distance between your old and your new home and the amount of household goods. In this article on relocation costs, we explain what the average costs are, depending on the size of the apartment, etc. But of course, the costs vary depending on whether you move yourself or leave your move to a professional removal company.
Everything at a glance: The checklist for your move in Lucerne
To avoid losing control of your move and drowning in chaos, download our moving checklist. You can tick off all important points individually and proceed step by step with the organization.